LIFE
The Rise of Gaiscioch Football
Many do not know this, but most will expect it. The best way to motivate me is by telling me I suck at something or telling me that it's impossible.
Once upon a time, in a land they call San Jose, California a small 65lb 13 year old got his first taste of football in physical education. He was the smallest kid in his class barely meeting the 5'4" mark and as skinny as could be. He had played baseball, was on a swimming team, learned Aikido, and did gymnastics, but football was a new sport and it was pretty fun. But here's the problem: who wants a nerdy 65lb 5'4" kid on their team? You guessed it, nobody. I was often picked last and sometimes wound up benched to only watch the game.
The other kids teased me by calling me dwarf or "sun dial" because I was so much slower than them. Whenever I did get to play I rarely got to catch the ball. Kids told me I sucked and that I should just give up and not play at all.
But that didn't stop me, instead it motivated me. I liked this game and wanted to play more. I didn't care if I ever caught the ball; I wanted to run, I wanted to chase. I loved how 11 people worked together to make it all work, even the guy who wasn't getting the pass was useful and helped make that play successful.
After lots of arm twisting, my mom decided to sign me up for the Police Activities League and I joined the Campbell / Saratoga Raiders tackle football team. The first day I showed up looking like Robocop. Every pad my mom found in the store was on me. I had arm guard, shin guards, neck roll, rib pads, and even one of those giant chin straps.
Looking back I looked rather hilarious and it's no wonder I ended up being the team tackling dummy. At first I was terrified of the physical contact and the ball. But as the season progressed something phenomenal happened. I grew 6 inches, went through 3 pairs of cleats in a single season and gained 50 lbs. By the start of the season I barely made weight and was no longer the smallest kid on the team.
By mid season I was well over the weight limit, at 112 lbs, and my season was over. The team never won a game and in fact we scored our first point in the last game. Our only point came in the form of a 15 yard field goal. It was like winning the super bowl.
The entire team rushed the field and dog piled the poor kicker. Nobody cared that we lost, we finally scored a point.
When seventh grade began, I was no longer the dwarf. I was now a 1% body fat pure muscle machine. I became fascinated with football and it led me to create my first website in 1993, Football Central. This site became an Internet sensation over the next 4 years and would eventually be killed by its own success.
I went on to play football for Prospect High School and became one of their most dependable receivers. I was often running the slant routes across the middle. My coach knew that I would catch the ball even if I took a nasty hit. My coach also began putting me in as a cornerback and safety. During my senior year I led our team in tackles with 68 tackles as a free safety. You can guess how that season went.
After High School I went to San Jose State University where I redshirted for my first year until the NCAA Clearing house sent me a notice that I was no longer eligible because a teacher I had in high school was proven to be incompetent.
I remember my meeting with Dave Baldwin, head coach from SJSU. It was like life was stolen from me and the only reason I went to college was gone.
I then discovered semi-professional football and played 2 years in San Jose before nearly losing a finger to a freak football accident. Tackle football had become too risky for me at this point, and I knew I had to move on.
Luckily for me some of my friends introduced me to Flag Football. I started playing intramural flag football at SJSU and eventually found some other leagues around the San Jose area. At one point I was playing in 4 different leagues on 4 nights a week.
The Birth of Gaiscioch Football
In 2001, shortly after forming the Gaiscioch na Anu in Dark Age of Camelot, I decided it would be fun to create my own team, and I created the Gaiscioch flag football team in the San Jose parks and recreation league. A few of my friends from high school joined me as well as a few of the members of the original guild whom I worked with at the time.
We never did anything spectacular, but we had a lot of fun. By this time I was married and had my daughter; my life priorities started to shift. By the time I experienced my first layoff, real life hit me full steam. I had to put personal ambitions aside and do what needed to be done to survive.
Gaiscioch Football would resurface in a new land called Eugene, Oregon with the help of my friend, Don Rush. The decision to follow this path came after I recently experienced a divorce and had my child moved a thousand miles away. There was a void that needed to be filled. Anger and rage were eating me alive as I was trying to cope with a new life away from everything I knew and loved.
I met my future wife Juliana by looking for support from others going through a divorce. Between her and Donald we came to the conclusion that the best thing for me at the time was Flag Football. Don and I put together an 8-man light contact flag-football team in the Maximus Sports Flag Football League.
This team would go for 2 years before Juliana and I married and later move to Portland, Oregon with a new job opportunity. New horizons bring new opportunities.
Gaiscioch Football Moves to Portland
The very first weekend we arrived in Portland I signed up for the Underdog Flag Football league and began looking for players to team up with to reform the Gaiscioch team up north. Thats where I met Anthony Davis, a remarkable former Navy rescue swimmer who had been ejected from a car and left paralyzed. His story touched my heart and his arm left marks on my body with his insanely hard passes.
As Don moved north to rejoin the pack we decided to reform the Gaiscioch Football team with Anthony Davis as the team captain. Since then we have played 14 seasons, formed 5-Man, 7-Man, and 8-Person Co-Ed Flag-Football teams and won a league championship.
In September of 2014, the Gaiscioch Football team played in their first regional tournament, 2014 Comcast SportsNet Summer Football Challenge, against teams from all over the pacific northwest. With 6 long football games and more than 8 straight hours of standing on a football field in the blazing summer sun we conquered fatigue and took the championship in our first ever tournament victory.
The Gaiscioch Football team has been enjoyed by more than 100 players over the course of the past 13 years and continues to grow as time moves on.
One thing I've taken away from this is that no matter if it's a gaming community or an athletics club, both unite people under recreation and both lead to making epic memories and friendships that last a lifetime.
Looking back, football has played a very important role in my life. It gave me hope when I thought all was lost. It taught me how to take a hit and keep on going. It gave me the wisdom to know that winning isn't always winning and losing isn't always losing. It has been a motivator in my life, an ambition that I followed to the very end.
Today I stand on the doorway to 37 and I still take to the field with the same excitement as I did that cold spring morning where I touched a football for the first time. I still get that rush of adrenaline as soon as I touch the ball.
Published: March 22nd, 2015 | 2,654 Reads
About the Author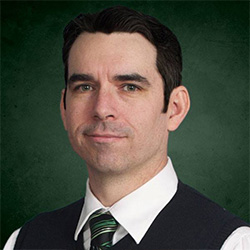 Benjamin "Foghladha" Foley
Managing Editor
Benjamin founded the Gaiscioch Social Gaming Community in 2001 and has since been the founder & activities director for this well known community. His role has gone beyond just running the Gaming Community and now includes running the Athletics Program in Portland, Oregon, as well as acting as the Managing Editor of the Gaiscioch Magazine, and is the Lead Producer on the Gaiscioch Livestream Productions. Additionally he networks with game developers to form relationships between Gaiscioch and development studios.
His experience in publishing dates back to helping his Grandparents who operated a printing press for over 40 years. In high school and college Benjamin excelled in journalism and played an active part in the school newspaper. Benjamin currently works full time as the director of technology for a franchise trade publication & education company.
SHARE YOUR THOUGHTS