FEATURES
Life in the Fast Lane with Brett Smrz
At the age of 23, Brett Smrz has dealt with more than his fair share of adversity. He got his start on the track racing Formula 3 and has become a well known stunt driver in major film. At the age of 16, tragedy struck and he lost his left leg below the knee in a freak accident.
Today I had the chance to sit down with Brett and discuss his hobbies, career, and the accident that changed his life.
Good morning Brett, I understand that you are quite a stunt driver, what can you tell me about that?
A: Stunt driving is a lot of fun. My dad got me into the business when I was 18 years old. He's been in the business since he was in his 30's. His brother and he moved from Pennsylvania to Los Angeles to pursue a stunt career. They did it successfully, and I decided to jump into that when I was 18 years old. It has been going good ever since.
In what movies have you done stunts?
A: I was in The Amazing Spider-Man 2; Alexander and the Terrible, Horrible, No Good, Very Bad Day; Mission: Impossible-Ghost Protocol; and Mission: Impossible 5. These are just some of the newer ones that I've been in.
I've done some cool stuff on some of them. In Mission: Impossible 4 I didn't do anything too crazy, it was mostly just background driving which is when someone else is doing the big stunt while I am in the background making it look like there are actually people on the street.
As far as the Alexander movie, with that one I got to drive up on top of a curb, take out some street meters and stop really hard. That one was fun, and sometimes I get to do some really cool things.
I understand that you are also into motorcycles.
A: Yeah, my dad used to race motorcycles. I don't race or anything; it's more just for fun. I have a Suzuki DRZ400, a cross trainer that works in the dirt and on the street. It's a nice canyon digger. It just handles really well.
Do you like working on cars?
A: I do. I have a couple of projects that I am trying to get going right now. I have a 2002 BMW M3 that I am building into a Drift Car right now. I am looking to compete that in a Formula Drift race at some point, probably just local competitions at the beginning and then hopefully moving my way up.
I have been working on that car for a couple of months now, and I have been learning a lot. I am still new to mechanics, and I am trying to learn as much as I can about cars.
What is a Drift Car?
A: A Drift Car is the one you see sliding around all over the place and the tires smoke. A good example is the movie The Fast and the Furious: Tokyo Drift. 'Drifting' is a technique where the driver intentionally oversteers, causing loss of traction, while still maintaining control of the car.
Is this a hobby or more stunt work?
A: It is more stunt work. I would rather be doing road racing stuff. However, drifting is a lot of fun, and it will help further my stunt career, especially learning more car control and all that because it correlates really well with the stunts.
I have been slowing building the BMW. It's still not complete, but I hopefully will have it done by the end of the year. So for now, I am working on it and practicing with it periodically. Hopefully next year at the beginning of the season, I will do some local events.
Stunt shows?
A: No, it's called Formula Drift. It's a local series, and there are just a bunch of people that come out and compete. Basically, you have two cars go out side by side and try to slide right next to each other as close as they can. Whoever can hold the line closer to the other car, shows more tire smoke, or is more sideways is the driver who is chosen as the winner.
It is a judging series, and there are 3 stages. You go up against different people every stage until they eventually come up with a winner.
How long does that take?
A: It usually takes a full day. They also have practice day, so it takes place over a weekend.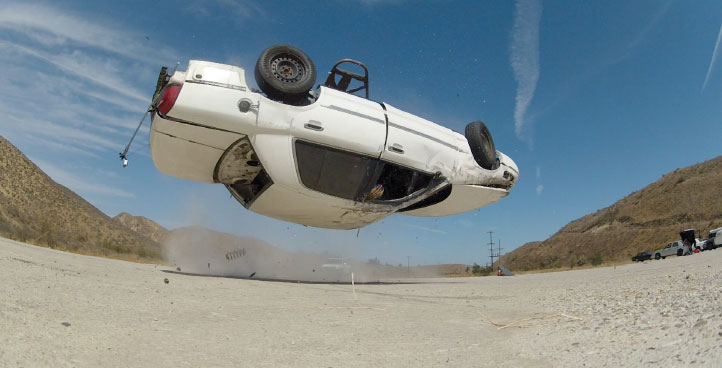 I understand that you used to do some rock climbing.
A: I did some rock climbing for about 4 months straight. I had a lot of fun with that, I used to go climbing every day, and I got really strong. When I started having some issues with my leg, I stopped going, and I haven't been back since. I should get back into it because I really liked climbing.
I have other hobbies. I like to go with my dad to the range and shoot guns, and I am also really into Photoshop.
So what got you into Photoshop?
A: There was a friend of mine that I played games with online, and he was making these cool icons. He was really good at it, so I started making some stuff, too. I was horrible. It was just beginner stuff, but I enjoyed Photoshopping, so I kept doing it for fun and progressively got better. Now I can make some decent stuff. I am not going to say I am a pro at it, but I got to design the GoPro Star Mazda Car that was revealed in this fall.
Wow, congratulations!
A: Thank you, that was really cool. When they called me about it, I was pretty excited.
And you designed that in Photoshop?
A: I did, I designed the templates in Photoshop. Then I opened it up in a video game program called iRacing, which basically renders the designs in 3D. Then, you can move the image around and look at it like it was in the real world. It was really helpful while I was designing the car, making it a lot easier to see what it would really look like.
Do you still play video games?
A: I do. Right now, I am playing Chivalry: Medieval Warfare, and then Diablo III: Reaper of Souls. I was into Call of Duty 2 for a long time. While I have slowed down on the gaming, I do still play.
What do you do with your free time? Do you have any free time?
A: I have a lot of free time that I use to train and improve my driving skills. Also if I can wrench on anything, whether it is something important or not, I do that to improve my wrenching skills. I have a lot of friends that ask me for help, and I learn along the way with it.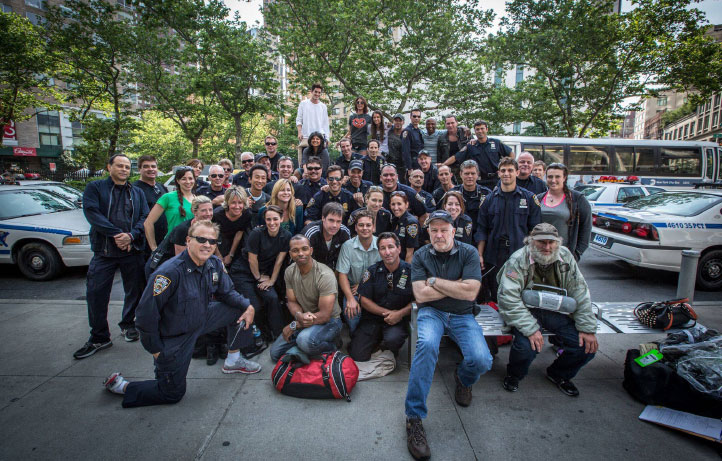 Tell me about your accident
A: Well, when I was 16 years old I was living in Coeur d'Alene, Idaho. I had just gotten back from a horrible race weekend. I had crashed a car. I flew home, and the day after that, I broke my leg. I was at a friend's house, and there was a trampoline there, and my friend decided to go up to a balcony that was right next to the trampoline. I joined him. Then I decided to go first, so I climbed up on top of the balcony. While I was up there, I decided instead of just doing a jump, I would add in a flip.
The drop was about 12 feet, and I did a front flip with a twist. I made the flip, but I was still twisting and not fully rotated when I landed. It put too much pressure on the leg, and it just snapped. It was a really deep break that pretty much sheared the bone rather than breaking in half cleanly. Also, when the bone broke, it shifted and cut my artery, which caused internal bleeding.
They got me to the hospital where I had immediate surgery. Over the next four days I had four more surgeries. That's when they came in and told me that they were going to amputate my leg, which I was cool with, it didn't really bother me at all. After that, I had nine more surgeries, then about a month after that I had it refined to make sure everything was good.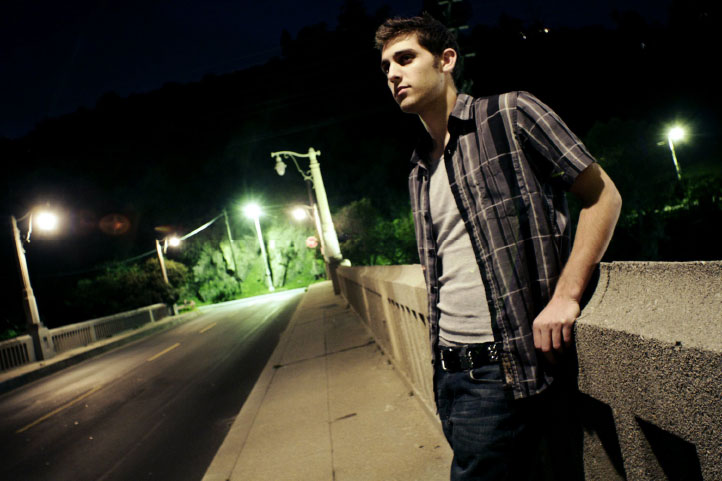 Is your amputation above the knee or below the knee?
A: It is below my left knee. I started out with a Hanger prosthetic on a pin system. Now I have an Ossur prosthetic that uses a sleeveless suction system.
Having an artificial leg doesn't seem to have slowed you down at all.
A: I don't see it as too much of an issue. Honestly, it works really well.
When I was nine years old, I met Casey Pieretti. He was working on Inspector Gadget with my dad. I saw him with his prosthetic leg on two stilts running down a street. That was the first time I met an amputee, and that really stuck in my brain.
So after my accident, I thought that if Casey could do that, then why couldn't I. Another coincidence was that I had just finished reading a book called Alex Zanardi: My Sweetest Victory. Alex Zanardi was an Italian race car driver who was in a violent accident at the EuroSpeedway Lausitz, and both of his legs were amputated. He got back into racing about a year after his accident. It was a good read, and it made it easier for me to decide to continue on with my life and with racing.
My accident didn't slow me down at all. The first question I asked was "when can I get back into a car?"
Did they think you were crazy?
A: Yeah, they thought I was insane, but I was in a car racing about five months after my accident. It was really quick, and I actually did really well. I raced at the San Francisco Formula Ford triple header at Mazda Raceway Laguna Seca. I was just planning on going in there, having a fun time, and getting back into the swing of things. I ended up winning all three races and set a new class track record in the process. It was shocking; I wasn't expecting that at all.
Is there anything you don't do with cars?
A: There's not much. If I see something that I really want to do, I always try to figure out a way to do it with few or no modifications. The only thing that I need if I am racing on a track is a bracket for my foot to keep it in place so that it doesn't slip off. I have a hard time switching from the clutch pedal to the brake pedal, so I brake with the right foot and keep my left foot on the clutch pedal. When I go through a corner, my leg will slip off pedal sometimes because of the high G force. The bracket keeps it on.
So what is next for you?
A: Hopefully, I am going to be racing in the Formula 4 in England in October, 2014. It is an open-wheel race, so it's a car that is on top of a tube that you sit in and the wheels are all exposed. If that goes well, then I am looking to get into some more racing next year.
As far as the stunt driving goes, I pretty much just play that by ear. I get jobs very randomly, so I could get a call right now to work tonight. That is how the business works. So, if I get a call, I just have to be ready to jump on it and do it.
Other than that, I am learning how to wrench, have a good time, and go along with whatever gets thrown at me.
Brett, thank you so much for speaking with me today.
A: No problem at all, thank you very much. I appreciate you spending your time with me.
For more information about Brett Smrz be sure to visit:
https://www.facebook.com/pages/Brett-Smrz/109543382370
Published: March 19th, 2015 | 19,125 Reads
About the Author
Aoibheann
Editor
Aoibheann (pronounced Ae-veen) is an Irish American Artist.
As a Photographer and Writer her work has been featured in Gaiscoich Magazine, Biker Magazine, Sun City Bikers, Ruidoso News, The Ruidoso Free Press, KEDU Radio, the Society for Creative Anachronism, BetterPhoto.com, Juicy Skin Calendar, as well as various other publications for the U.S. military and her colleges.
When she's not traveling the world and taking pictures, you can find her interviewing interesting people, writing whimsical stories and articles, gaming in GW2, playing guitar, reading her favorite books, or out dancing in the rain.
Owner of Rogue Photos, you can view her photography work at http://roguephotos.virb.com/
SHARE YOUR THOUGHTS