LIFE
GmaFoley's Cheater Quilts
I love making designs with my quilts, but I don't like to hand stitch the quilting or fight with the batting. One of my friends gave me this idea and I call them "Cheater Quilts." Basically, I machine sew the tops of the quilts using different patterns I like. Then instead of batting or a backing I use polar fleece for both. In place of the quilting, I finish them with little knots tied in strategic places across the quilt to hold both sides together. Here are some of my finished projects.
These two quilt patterns are similar, both are made up from a 3 strips block. This first uses 9 inch squares and the other 6 inch squares. Once all the blocks are made, I assemble them into patterns and sew them together.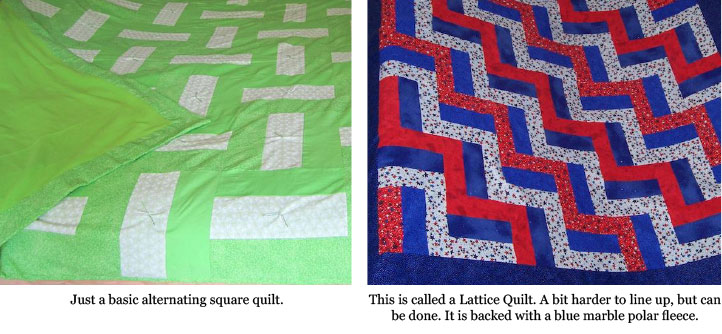 Published: May 24th, 2015 | 3,092 Reads
About the Author
GmaFog
Senior Editor
As GmaFog loves to adventure in life, she gets excited about everything surrounding her. In addition to working as a Web Production Assistant for Franchise Update Media, she voluntarily writes and edits for Gaiscioch Magazine. She attends Westside Christian Church and loves going on missions trips to Rwanda with Africa New Life Ministries. In her spare time, Gma plays games with The Gaiscioch [GSCH] Family and grandsons; dabbles in photography; and explores crafting ideas. You can always ask her questions, as she enjoys helping others, in-game and out.
SHARE YOUR THOUGHTS