PREVIEWS
Getting Volatile in Biomutant
Along my adventures at PAX West I stumbled upon the THQ Nordic booth, who just happened to be showing off Biomutant, a new action rpg where you take the form of a furry harbinger of destruction. In what I can only describe as an Assassin's Creed meets Ratchet and Clank, this little gem has some serious gumption.
From my short playthrough of the demo, the thing that struck me about Biomutant is the fluidness of controls. The contextual dodge mechanic can read the opponent and move your character under, over, or around them based on their current action. In turn you get a cinematic display of bullets and brutal melee mayhem wrapped in a furry package.
The art style of the game is very natural in tone. Lots of nature overgrowing destroyed structures brought back the ol' Last of Us vibe. Then they throw on the problem solving layer to the game where you can learn skills that allow you to traverse various challenges with ease.
Overall, Biomutant has a lot to offer to the action rpg genre and even plays on our past platformer experience. Even in it's rough pre-alpha state it was very fluid and looked great. The weapon crafting system and augmentations made for a very diverse and almost limitless array of weapons to choose from.
I have to give this one a big heartfelt 2 thumbs up as even today a month later I find myself craving another chance to play. Now comes the hard part... Waiting for release.
Published: October 9th, 2017 | 4,350 Reads
About the Author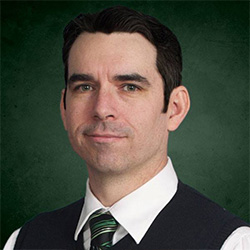 Benjamin "Foghladha" Foley
Managing Editor
Benjamin founded the Gaiscioch Social Gaming Community in 2001 and has since been the founder & activities director for this well known community. His role has gone beyond just running the Gaming Community and now includes running the Athletics Program in Portland, Oregon, as well as acting as the Managing Editor of the Gaiscioch Magazine, and is the Lead Producer on the Gaiscioch Livestream Productions. Additionally he networks with game developers to form relationships between Gaiscioch and development studios.
His experience in publishing dates back to helping his Grandparents who operated a printing press for over 40 years. In high school and college Benjamin excelled in journalism and played an active part in the school newspaper. Benjamin currently works full time as the director of technology for a franchise trade publication & education company.
About Biomutant
BIOMUTANT® is an open-world, post-apocalyptic Kung-Fu fable RPG, with a unique martial arts styled combat system allowing you to mix melee, shooting and mutant ability action.A plague is ruining the land and the Tree-of-Life is bleeding death from its roots. The Tribes stand divided. Explore a world in turmoil and define its fate – will you be its saviour or lead it to an even darker destiny?
RELATED CONTENT FROM AROUND THE WEB
SHARE YOUR THOUGHTS