FEATURES
Gaiscioch Magazine Turns 5 as They Release Issue 18
What happens when an ambitious gaming community decides to get into the media publishing game? Great things apparently!
Five years after Gaiscioch Magazine set off on an epic quest to build their own gaming magazine, they celebrate the release of their 18th issue. Currently maintained by 10 members of the Gaiscioch Community they continue to produce weekly content surrounding the games they love. From previews and reviews to first look interviews with game developers, this magazine is something special.
They pride themselves on keeping their publication Ad free, using only a Patreon to cover the costs of art & operations. Their entire staff are volunteers. It's a project of passion and they enjoy doing it just because they can.
Lessons Learned & Opportunities Gained
Over the past 5 years we have learned a lot of lessons about the publishing game. Here are some of the key lessons we learned by starting up our own publication.
Don't Underestimate Yourself
It's easy to sell yourself short and assume that you're too small or too insignificant to matter to a big game developer. The gaming industry is much more approachable than you think. When we started this we thought, wouldn't it be great to interview some of the brightest minds in gaming? Yes, it was a lofty goal but it was not unobtainable. In our second issue we interviewed Matt Firor, Scott Hartsman and Colin Johanson. By our first year we went on to interview Mark Jacobs, Derek Brinkmann, American McGee, Digital Artist Carlos E. Quevedo and the Composer Ivan Torrent. All because we asked the question "What if?" Don't make assumptions, just try it. The worst that can happen is they say no.
Stick to what works.
For the first 3 years we spent countless hours creating a digital magazine in a page flip format on Issue that additionally was printable. While it was great to have printed copies, they were extremely expensive and nobody but the developers ever really ordered one. In addition, the font size of the digital edition was always too small, even though when you printed it it looked like a large font. Thus the digital edition of our magazines weren't read very often. We did find that our Articles posted on our website were read more times than our entire digital edition. Most articles we've published have over 5,000 unique reads. In 2017, we decided to stop wasting time and energy producing the digital magazine in Issuu and focus on creating more content directly to our site. With an additional 40+ hours back we've managed to revamp our website and work on building partnerships with 3rd party syndication sites like Flipboard, News360 and Pocket. For us the decision was not hard as it allowed us to focus on what was working and lay to rest the part that wasn't.
Ask & You Shall Receive
There have been countless times where we were stunned by the things offered to us. The first time we received an invite to E3 (back when it was media only) we were floored. We have been accepted into the gaming press world and have approval by several media outlets such as Keymailer, Terminal.io, Distribute() and several others. We have also been able to attend EGX Rezzed, Gamescom, and PAX West as members of the press. The only thing we had to do is ask and show our work. A lot of doors opened for us, allowing us to have advanced and private opportunities to see games and meet developers. Simply by asking.
Be Relentless
Sure there have been many times that we've felt as though it's been too much or we had doubts that people were even reading things. But you can't succumb to this. If you truly believe in what you are doing, you must keep doing it. Challenges and doubt will try to stop you, to keep you where you've always been. It's natural to have doubts. It's life's way of giving you the opportunity to surprise yourself and realize that you're capable of more than you give yourself credit for. Be strong and rise to the challenge. Don't give up before things begin to stick.
The Long Journey
This journey of becoming our own publication has been a challenging, but enjoyable one. We have had the chance to meet and speak with almost every developer we set our sights on. This gave us a whole new perspective on the industry and furthered our understanding of what goes into making the games we know and love. This is a road less traveled but an adventure worth taking.
A Special Thanks
I want to give a very special thanks to our brothers and sisters in the gaming press. If it wasn't for their encouragement and support, we probably wouldn't have gotten as far as we have. They have been welcoming to us and even help us make connections in the industry.
I'd like to personally thank Garrett Fuller & William Murphy of MMORPG.com, GameSpace and Critical Hit Consulting for their guidance. Bree Royce of MassivelyOP, for her continued support and Ed "Screenager" Orr of MMORPG.com and GameSpace who has lent himself to us on countless occasions to volunteer for our magazine.
We would also like to thank the teams at Terminal.io / Evolve, FatShark, ArenaNet, and Zenimax Online Studios for their constant support and comradery. In addition, I would personally like to thank Therese Thilgen, Eddy Goldberg and Kerry Pipes of Franchise Update Media as well as Steve Olsen for their encouragement and advice in starting the magazine.
Last but not least, I have to give a shout out to all of our Followers and Patreon members. You have given us all the encouragement we need to keep going and keep producing content about the games we know and love. Thank you so much for your endless support!
Published: April 29th, 2019 | 14,807 Reads
About the Author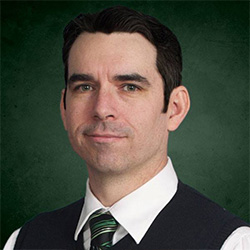 Benjamin "Foghladha" Foley
Managing Editor
Benjamin founded the Gaiscioch Social Gaming Community in 2001 and has since been the founder & activities director for this well known community. His role has gone beyond just running the Gaming Community and now includes running the Athletics Program in Portland, Oregon, as well as acting as the Managing Editor of the Gaiscioch Magazine, and is the Lead Producer on the Gaiscioch Livestream Productions. Additionally he networks with game developers to form relationships between Gaiscioch and development studios.
His experience in publishing dates back to helping his Grandparents who operated a printing press for over 40 years. In high school and college Benjamin excelled in journalism and played an active part in the school newspaper. Benjamin currently works full time as the director of technology for a franchise trade publication & education company.
SHARE YOUR THOUGHTS