PREVIEWS
Crowdfunded: City of the Shroud
Abyssal Arts
$16,239 (115% Goal)
Meanwhile in Denver, Colorado, an energetic and passionate team at Abyssal Arts has successfully reached their goal to Kickstart City of the Shroud, a new tactical RPG in the vein of Final Fantasy Tactics, and Fire Emblem. Their goal was $14,000 which they obtained in just over one week. Over the course of their full 30 day campaign they managed to raise $16,239 and also get City of the Shroud greenlit on Steam in 3 weeks.
City of the Shroud features a combo-based battle system, a living episodic campaign, online PVP Multiplayer, and mod support. The story was written by the successful independent author Moira Katson. It runs on both Windows and Mac.
Gaiscioch Magazine's Ed "Screenag3r" Orr was fortunate enough to score an interview with the team behind City of the Shroud at EGX Rezzed.
Be sure to check out his interview at:
https://gsch.info/i/cityoftheshroud
Learn More At:
https://www.abyssalarts.com/shroud
Published: August 26th, 2016 | 3,549 Reads
About the Author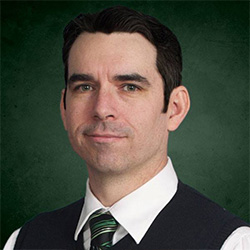 Benjamin "Foghladha" Foley
Managing Editor
Benjamin founded the Gaiscioch Social Gaming Community in 2001 and has since been the founder & activities director for this well known community. His role has gone beyond just running the Gaming Community and now includes running the Athletics Program in Portland, Oregon, as well as acting as the Managing Editor of the Gaiscioch Magazine, and is the Lead Producer on the Gaiscioch Livestream Productions. Additionally he networks with game developers to form relationships between Gaiscioch and development studios.
His experience in publishing dates back to helping his Grandparents who operated a printing press for over 40 years. In high school and college Benjamin excelled in journalism and played an active part in the school newspaper. Benjamin currently works full time as the director of technology for a franchise trade publication & education company.
SHARE YOUR THOUGHTS